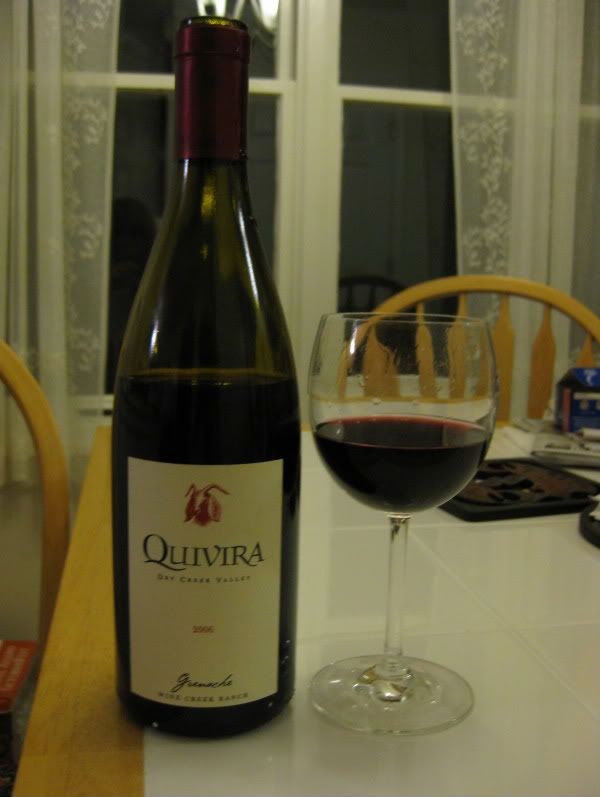 I previously reviewed the 2005 Quivira Grenache here, about a year and a half ago. I absolutely adored it, so when 2 bottles of the 2006 arrived in my latest club shipment I danced for joy! The 2006 Quivira Grenache from Wine Creek Ranch clocks in at 15.9% alcohol by volume, has a real cork closure, and cost me $26 in my club shipment. Oddly enough, when we drank the 2005, my parents were also here visiting!
On the nose I found ground nutmeg, anise, blueberries, black cherries, chocolate milk, vanilla ,spice, earth, perfumed flowers, and slight banana.  In the mouth I got flavors of chocolate, red fruit, raspberries, cherries, and the crumble on top of apple crisp. It tasted like black cherry pie with vanilla cream in a glass.
Overall, the wine showed as light and delicious in the mouth, with tart fruit, and a gorgeous, seductive nose. Once again, I absolutely adored this wine, but I think it could use some more time in the bottle. I have 2 more bottles in the basement, so I think I'll just tuck the away for another year or so. Check back in then for an updated review!

Filed under: California, Grenache, Quivira, Red, Wine